You can fish here. It's exciting and fun.
"A restaurant that makes you want to come back again!"
With your family, colleagues, and friends as well as for couples...
For get-togethers, anniversaries, dinners and other parties.
When you enter our restaurant, the first thing that catches your eyes is a huge boat and a big fishing tank. You will be excited about its size. Sea breams, soles, horsemackerels, Japanese lobsters, and our pets (bullhead sharks and rays) are swimming in the fishing tank. You will never get tired of watching them for hours. You can choose between seats on the boat and private rooms.
We cerebrate with Japanese drums when you catch a fish♪
You will be satisfied with your extremely fresh fish
Our chefs will cook with all their hearts your extremely fresh fish just from water.
A fish may be cooked into two kinds of dishes. You can enjoy a wide variety of menus such as sashimi and shioyaki (fish grilled with salt), sushi and zosui (rice porridge), kabutoyaki (grilled fish head) and honesenbei (fish bone cracker), miso soup and more. You will enjoy our cooking.
You can never experience the taste of fry and shioyaki of fresh horse mackerels in any in any other place. You will be surprised with the sweetness, taste (umami), and texture of sashimi of fresh squid just from water.
Sashimi of a whole Japanese lobster is a must-see. Your table will be filled with excitement. Enjoy the fresh seafood dishes.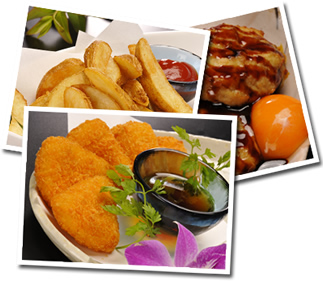 Don't worry if you don't like seafood !
We have dishes popular with most of our customers, such as fried
chicken, tori-tsukune (chicken meatball), fries and more. We also have a rich variety of desserts and children's plates.
For the customers who want to make their party successful
Recommended to families who have no plan on rainy days
Our entertaining eventful treat is making everyone happy!
Our restaurant is popular among customers who organize office or company parties and want to make it successful.
We recommend our restaurant for families or couples who cannot decide where to go on rainy days.
We have a lot of families on weekends and many of our customers on weekdays are office workers.
Many families of three generations are our customers. Our restaurant makes everybody happy, old and young, men and women.
Our restaurant is best suited for closing parties, welcome/farewell parties, OB association or alumni association, and large group parties.
Our restaurant is convenient for events and parties and is "a very useful restaurant" when you cannot think of a good plan to go out or when the weather is bad.
Our customers use our restaurant for various purposes such as using a private room for happy occasions.
Questions and answers.
*The price in this page does not include tax.
Please seehere together with this page.
PDF opens↑↑↑
Yes.
You can fish from any seat on the boat and from the private rooms. Please contact us for party rooms or annex rooms.
Yes.
It is very rare not to get fish even if you are a beginner. It is different from fishing in a fishing pond.
You can enjoy non-bait fishing in case you cannot get any fish.
We would like you to enjoy fishing.
The price is reasonable because we would like all our customers to enjoy fishing.
No problem.
We have menus for those who don't like fish.
Please see the price list below and ask our staff for details.
Fishing (Rental rod is free, bait fee is 200 yen)
Fish fee +cooking fee... See the "fishing price list" in our restaurant.
Release fee (250 yen) *Our staff will release your fish.
Select a dish from our original "Sea bream/exchange menu" and exchange it with your fish (sea breams only).
Service charge (free), consumption tax (according to the tax rate)
It is a total price.
The menu in a family package has a volume for 2 to 3 persons. Fishing price is included in the package price. The package price is not for one person.
You don't have to worry about catching too many fish.
You can release your fish (250 yen). (Please ask our staff)If your fish is a sea bream, you can exchange it to a dish (Please choose a menu). Enjoy fishing to your heart's content.

Please ask when you make reservations.
We do our best to support you in any way with or without charge.